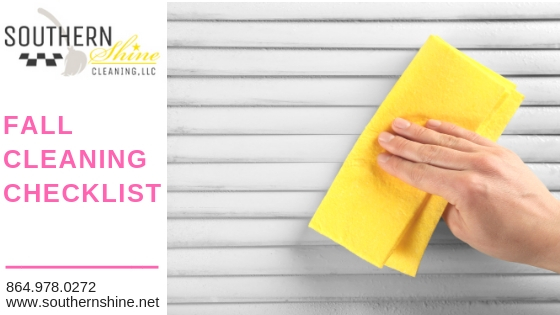 Are you looking to clean up the house or a home cleaning service? Here's a Fall Checklist to keep you on track.
Home Cleaning Starting Inside:
Carpets: Clean your carpets and have them professionally cleaned if needed.
Windows: Use a glass cleaner and a microfiber cloth to clean all the windows.
Blinds: Using a low setting with a brush attachment vacuum down the dust filled areas. You can also wipe down vinyl shades with a dampened microfiber cloth.

Window Treatments:

Using a two-step approach start by dusting the frame then vacuum from top to bottom. You may also decide to submerge the blinds in a few inches of water with dishwashing liquid.

Kitchen Cupboards:

Start by emptying out the cabinets and washing them down, replace any liners if necessary. Take a moment to rid of any utensil you don't use. Declutter and reorganize.

Light Fixtures:

Wash ceiling-mounted light fixtures.

Refrigerator Condenser Coil:

Use your vacuum brush attachment to remove all the dust.
Computer: Take a moment to dust off and clean your keyboard.
Closets: It's time to declutter and reorganize your closets.
Wooden Floors: If you have scratched or dull wood floors professionally scuff-sanded and recoated.
Home Cleaning Outside Your Home:
Gutters: Clean the gutters before the weather gets too bad make sure the rain has a place to go.
Patio Furniture: If you have any summertime furniture take the time to clean them off and store them till next year.
Garden Hoses: Drain and store your garden hoses.
Pool Time: If you have a pool check and see if its time to drain your pool and cover it for the winter.
---
Do you lead a busy life and can use the time you would be spending cleaning the house on things in life that you enjoy? Would you like to hire a home cleaning service and learn 5 steps when hiring a home cleaning service? Do you wonder how often should you hire a home cleaning service?
Contact your Spartanburg home cleaning service today to discuss our home cleaning service options that provide kitchen cleaning, bathroom cleaning and laundry service at (864) 978-0272.